South America's Rebound: An Economic Forecast
South America's Rebound:
An Economic Forecast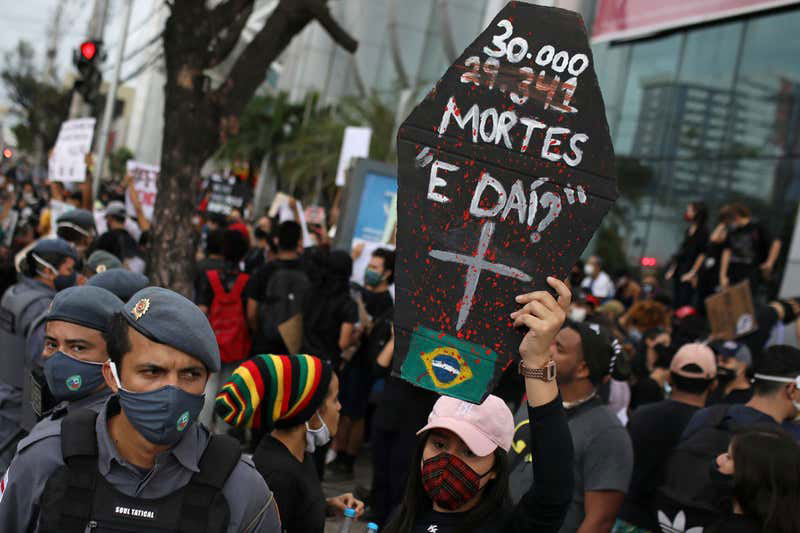 According to the June 2020 release of World Bank GDP forecasts, South America's top economies are projected to experience as much as a 12% decrease in GDP, worrying many international bodies, including the International Monetary Fund (IMF) and World Bank. This report explores the effects of COVID-19 on Argentina, Brazil, Chile, Colombia, Peru, and Venezuela, and provides a five-year economic outlook for each country, and South America as a whole.
Argentina:
Undergoing their own economic crises, Argentina, defaulted on debt repayments for the second time in 20 years, worrying investors and citizens of the country alike as to its future. Undergoing recession, the country has seen economic downturn in the face of COVID-19, fighting rising unemployment and growing cases of the virus. Harsh travel restrictions have forced the country into economic isolation, and this is only exacerbating the growing economic struggle.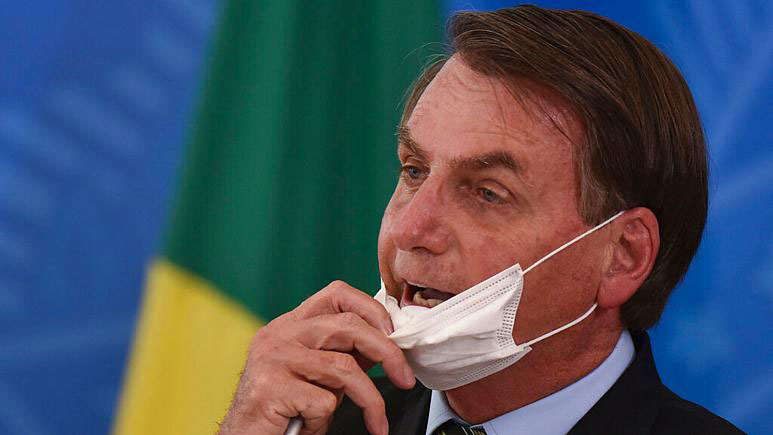 "A re people dying? Oh, yeah. And I feel for them. I feel for them. But there will be more people dying, many, many more, if the economy is destroyed by these lockdown measures imposed by governors."
- Brazilian President Jair Bolsonaro


Argentina's loan default places them in grave danger; the $324 billion loan equals more than 90% of the country's GDP. With a 7.3% predicted decrease in GDP, Argentina's economic future is in question. The World Bank does predict an increase of 2.1% in GDP for 2021, a number likely to change as the results of loan refinancing negotiations are made public. Until then, Argentina is likely to suffer the weight of COVID-19 for the next several years.

Brazil:
Brazil, Latin America's top economy, is experiencing its own troubles, with the third largest amount of COVID-19 cases in the world, and a projected GDP decrease of 8%. Poised to hit their own recession, Brazil's economy has collapsed under the weight of COVID-19 cases. Brazil's Economy Ministry reported gross national debt in May reached 93.5% of GDP, and in April alone, Brazil's service activity fell by 11.7%. Another worry is the decline of the Brazilian Real.
Against the US Dollar, the Brazilian Real has reached an all-time low in 2020. Blamed on the effects of the COVID-19, it may take several
years to reduce the inflation the currency has accrued. The World Bank projects a GDP increase of 2.2% for 2021, a modest recovery; it will take several years to alleviate the strain of 2020.

Chile:
Despite civil unrest in 2019 and early 2020, in January 2020, Chile was expected to make a full recovery from the protests that saw more than a million people drawn into the streets. Chile's export economy suffers under the effects of isolation and the value of the Chilean Peso dramatically fell from initial 2020 estimates. The Peso was expected to increase in value on the US Dollar, going from 760 Pesos to 725 in just two years. Fighting expectations, one US Dollar equals almost 820 Pesos.
Rampant inflation and a projected GDP decrease of 4.3% places Chile at a crossroads. Marked along with Peru by Goldman-Sachs as Latin America's hardest hit economies by COVID-19, the virus continues to cripple the country's economy, and it is unlikely the country will see a flattening of the curve anytime soon.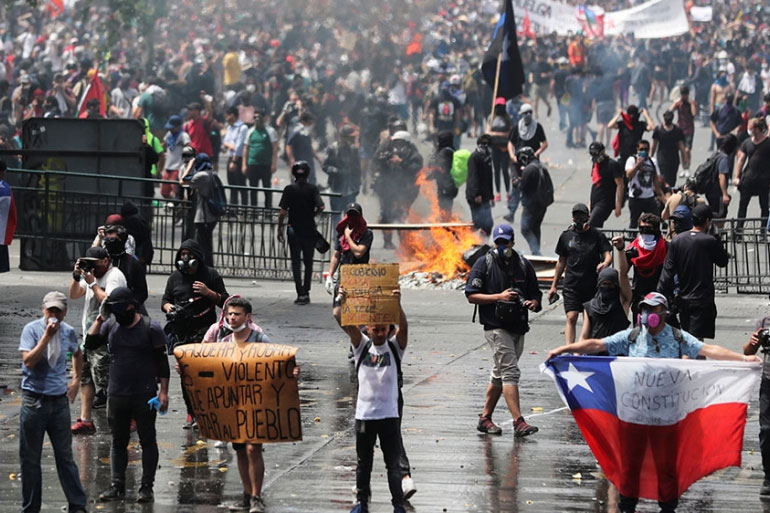 Colombia:
By no means leading the COVID-19 recovery effort, Colombia has mitigated COVID-19 exposure by closing international borders. Focusing on the Brazilian border, Colombia concentrated troops in the region to ensure lockdown measures are emplaced. Colombia's manufacturing sector fell almost 36% since 2019, a full display the strain COVID-19 has placed on the economy.
In March, the S&P downgraded Colombia's credit rating from stable to negative, and the World Bank predicted a 4.9% GDP contraction. Despite the negative predictions, IMF's Alejandro Werner stated Colombia was able to lead a regional recovery. Optimistically, the World Bank predicts a GDP growth for 2021 of 3.6%. If Colombia can maintain vigilant action against COVID-19, it stands the chance of experiencing major growth.
Peru:
At negative 12%, the World Bank forecast for the Republic of Peru is the greatest decline of GDP predicted in South America. Initially closing all international border and restricting internal travel, Goldman Sachs reports both Peru and Chile as Latin America's most exposed economies to COVID-19. Peru is a leading Iron-ore producer, with a third of all exports going to China.
Reliant on Chinese trade, Peru has suffered rampant unemployment due to the economic shutdown, almost a third of all Peruvians are currently unemployed. A delayed reopening, ore mining and other industries were expected to be 90% operational by September 2020. What is not known is the future impact of COVID-19. Peru has a forecasted 7% growth in GDP for 2021 but maintains one of the highest numbers in COVID-19 cases in South America.



Venezuela:
Venezuela's economy is in free-fall. Blocking international aid, Venezuela has reported only 4,186 confirmed cases as of June 23, 2020, but this number is disputed by interim President Juan Guaidó. De facto President Nicolás Maduro is reported to be hiding the real impact of COVID-19, and the damage to Venezuela's economy is incalculable. Both the World Bank and the IMF refuse to include Venezuela on projection reports, due to a lack of data.
The IMF roughly estimates a 15% decrease in Real GDP Growth for 2020, and oil production has crippled the country. Due to falling prices, Venezuela's reliance on oil exports has resulted in a loss of money per barrel produced. With the increase of social unrest and protests, the future of Venezuela is unclear. Fears over incorrect COVID-19 case numbers and lack of basic human needs has led to calls for humanitarian aid, and even the lifting of sanctions. Unlikely to happen, Venezuela's economy is not on track for success, and will likely continue to decline.

South America's Future:
In summary, South American economies are hard hit by COVID-19. Not the only problem they are
experiencing, falling prices in oil and other commodities tied up South America's export industry, and with-it millions of dollars' worth of industry. The hardest hit by COVID-19 is Brazil, who's populace is suffering from more than a million confirmed cases of the virus, and an unprecedented economic shutdown. For several countries, the economic outlook is better. Colombia, for example, has the potential for a fast rebound, provided the country maintains vigilance regarding COVID-19. Other countries, such as Chile and Peru will likely continue to see increases in COVID-19 cases, resulting in further economic shutdown.
South American countries do have a light at the end of the tunnel; World Bank reports indicate most will have positive GDP growths for 2021, and this will likely continue to grow as economies reopen. It is likely five years from now to see burgeoning economic sectors in South America, from the export driven manufacturing and industrial sectors to the service sector. Over the next few years it will be important for the economies of South America to support each other and reestablish ties damaged by isolation and lockdown.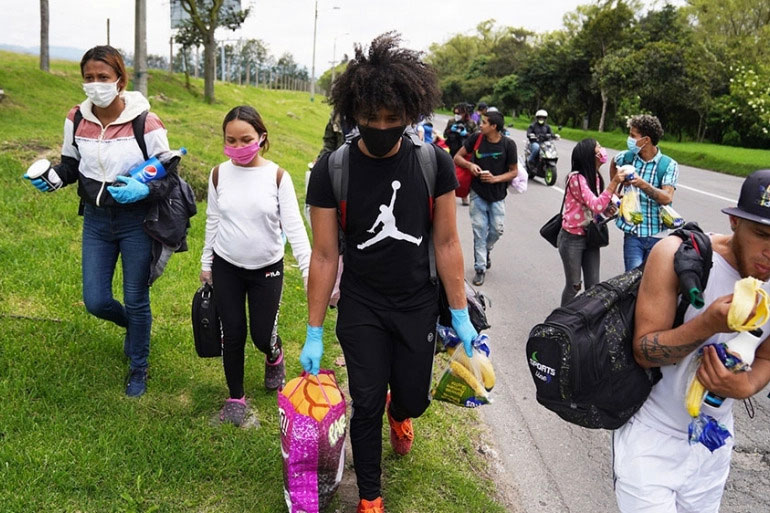 Photos
Alvarado, I./ Reuters /Borges, A./ AP/ Getty Images/ Gimeno, G./ TNH/ Kelly, B./ Reuters/ PA Images/ Rueda, M./ Vergara, F./ AP
TAGS
South America/ Argentina/ Brazil/ Chile/ Colombia/ Peru/ Venezuela/ Coronavirus/ COVID-19/ Economy/ Business/ Bolsonaro/ World Bank/ IMF/ Brazilian Real/ Chilean Peso/ Default/ Lockdown/ GDP